1. Rise above it all by climbing the orange- tiled dome of the duomo (or adjacent campanile) for stupendous views and then, back at ground level, marvel at the famous bronze doors of the baptistry and the colorful Byzantine mosaics that decorate the ceiling above the cathedral's font.
2. Plan a treasure hunt in the Uffizi, ticking off at least one painting by each of the following masters: Leonardo da Vinci, Michelangelo, Botticelli, Bellini, Raphael, Rembrandt, Rubens, Van Dyck and Caravaggio. An extra scoop of gelato afterwards if you correctly identify The Birth of Venus by Botticelli.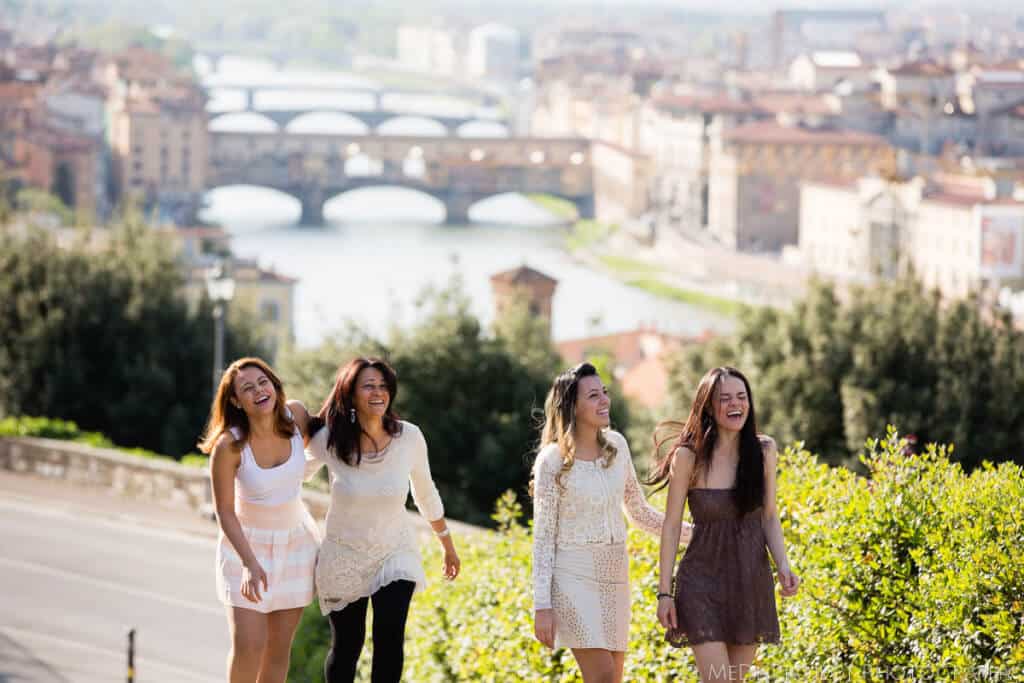 3. Grapple with science at the Museo Galileo (museogalileo.it), which not only features two of Galileo's telescopes, but also has demonstrations of his experiments on motion. Look out, too, for early maps and globes, and a gruesome collection of 19th- century surgical instruments.
4. Meet Michelangelo's David, a 5.2-m statue of the biblical hero who slew Goliath. The original sculpture is in the Galleria dell'Accademia (where you'll have to pay and queue), so you might want to settle instead for the copy in Piazza della Signoria.
5. Reward yourself with gelato for every museum, art gallery, cathedral and church that mum or dad drag you into. One of the best gelato parlors in the city is Vivoli (vivoli.it) on Via Isole delle Stinche, where only a triple scoop will do.
6. Indulge in a spot of window-shopping along Ponte Vecchio, the oldest surviving bridge in Florence (built in 1345) and famous for its antiques and jewelry shops.
7. Escape to Boboli Gardens for a game of hide-and-seek amongst the statues, box hedges and cypress trees – or find a shady spot for a picnic.
8. Browse the colorful stalls at Mercato Centrale for fruit, vegetables and flowers, as well as local Tuscan fare, like wild mushrooms, truffles and porchetta (roast suckling pig).
9. March over to the Museo Stibbert (museostibbert.it) where a spectacular column of armour-clad knights rides on horseback through a grand hall.
10. Don't stop at gelato when there are all kinds of other Florentine sweets and pastries to sample, such as ricdarelli (honey and almond cakes dusted with sugar).